Remington 597 Magazine Speed Loader
The .22 long rifle is one of the most popular firearm calibers out there. From beginners to experts, young to old, and everyone in between – the .22 LR with its non-existent recoil is super fun to shoot all day long. I mean, how many of you had a 10/22 as your first real rifle, toting it around the woods as a teenage kid? And how many of you are now passing the .22 tradition onto your kids? A .22 long rifle is a rite-of-passage, a traditional "gateway gun" that never gets boring – even as an adult.
Specifically, the Remington 597 is a great long gun that is a blast to shoot (no pun intended). However, what is NOT a blast is the constant reload of the factory 10-round magazines. Sore hands, blisters, or slicing fingers on the tops of the magazine can put a damper on your otherwise fun day of shooting.
Remington 597 mags are not overly difficult to load, but the inside edges of the loading area can be rough or sharp. When you are ramming round after round into the magazine, those sharp edges can cut your fingers pretty good. After hours of shooting and reloading them, it will start to wear on you.
Not to worry – we've got your back. To the joy of millions of 10/22 shooters, we made a speed loader for the Remington 597.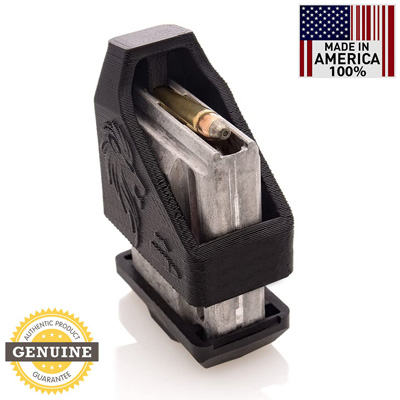 What is a Magazine Speed Loader?
The magazine speed loader is a plastic or polymer device that fits on the end of firearm magazines. Speed loaders allow for faster and more efficient reloading – shaving serious time off what it would normally take without one. Depending on the model, some fit right over the mag itself and some clip to the end. The rounds are then inserted with one push of a plunger. Some models allow for the push of 5 or 10 rounds into the magazine at a time.
RAE speed loaders are made from polymer and are as tough as they are ergonomic. Speed loaders decrease the amount of time needed to load rounds by a minimum of 50% and are made specific to each model of pistol or rifle.
Why Use a Speed Loader for the Remington 597?
Up until five or six years ago, a Remington 597 speed loader was virtually non-existent for the popular 10/22. Our solution to that was just designing and making one for Remington ourselves.
The little .22 rimfire rounds can be problematic to grab and plug into the magazines. You can end up fumbling around and dropping rounds while loading – especially if you have problems with your hands. If you are someone with issues such as arthritis or trigger finger, having a loader that does the heavy work can feel like a dream.
Another issue is after a great day of shooting the 597, your fingers are going to be sore, maybe blistered, and possibly cut from reloading these little magazines so often. This is another main reason to use a speed loader for the Remington 597. It simply reduces the amount of wear and tear on your hands and fingers, allowing you to shoot longer or over multiple days without wincing in pain.
But yet another reason to use a speed loader for the Remington 597 is purely the speed at which you can reload the magazines. It doesn't take long to empty one of the 10-round 597 mags, but you can reload it in about 40 seconds with the speed loader. If one has multiple magazines, that is better than having to constantly reload the same individual one.
Even better, you can extend your shooting time without having to reload by picking up one of the Remington 30-round magazines. The Remington 597 speed loader will work on those as well. Bonus!
The biggest takeaway is the RAE Remington 597 speed loader makes loading these little guys infinitely better.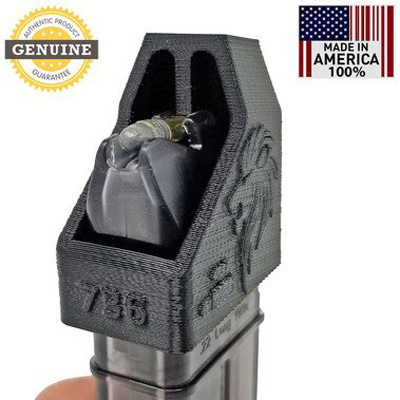 How Do You Use a Speed Loader for the Remington 597?
It has been said that simplicity is the ultimate sophistication and the RAE speed loader for the Remington 597 is no exception. The specially designed loader is a single unit with no moving parts, but it is very functional. It is a perfect fit for the mag with no slop.
All you need to do is slide the speed loader over the magazine and follow these steps:
Push the loader down and load the first round.
Lift up and push the round all the way inside.
Depress and load the next round.
Repeat until all 10 rounds are loaded.
That's it! That is the process. Fast and easy. Check out this quick video that gives an illustrated how-to.
Free up more plinking time and save your thumbs by carrying a Remington 597 speed loader in your purse or range bag – even your pocket. Do yourself that favor and it will make for better days out on the range with your good ol' .22. We think you'll really like this one.
Interested in another caliber or model of pistol or rifle? For more quick and easy speed loaders, browse our impressive selection here. As always, if we don't carry it, we'll make it!